The tourist map you need for Lisbon​
When you travel to a city that you do not know for the first time, it is quite complicated to find your way around it, even if you stay there for a long time.
Whether you want to visit the city on your own or during one of our tours, it is necessary to have the right maps to be able to prepare your stay as well as possible.
This is why we put at your disposal a set of maps to help you find your way. These maps are used not only to know what to do or what to see in Lisbon but also to realize the distances between each point of interest, the different districts which include Lisbon, what to see outside Lisbon etc. We have also included secret spots, known only by the locals.
Of course these maps are also downloadable, which means that you can integrate them on your phone through Google Maps.
Use this card before your stay to prepare your visit. Note that this card includes most of the tourist places in Lisbon and is recommended for long stays. If you are in Lisbon for less than 2 days we recommend the second map after.
Things to see in Lisbon in 2 days
This is our most popular map because the majority of tourists visiting Lisbon are only there for a short stay for a weekend. It includes the main points of interest which can be visited at a normal pace in 2 days. We recommend spending a day to visit downtown Lisbon and Alfama and another day to visit Belém and LX Factory. For more information, we have created a 2-days itinerary of Lisbon.
On the map, select on the top left corner one of the 3 itineraries we've created.
Map of the best Restaurants and Bars in Lisbon
This is a list that has taken us about 3 years to update (since our arrival in Portugal). This map lists the best restaurants in the city to date.
There are a few rules in Lisbon to be sure not to fall into a tourist trap you must avoid:
Menus with photos

Menus translated into several languages

Menus too long

Touts at the entrance of the restaurants

And globally the restaurants of the Baixa area 
Regarding the restaurants and bars below, they are part of my own list, these are the restaurants where I usually go I could even advise you which course to take (I'm serious, contact me if you want). First of all try to anticipate and book one of these restaurants in advance because Lisbon is such a tourist city that there are currently more demands than restaurants available so plan ahead. Enjoy!
Map of the Metro in Lisbon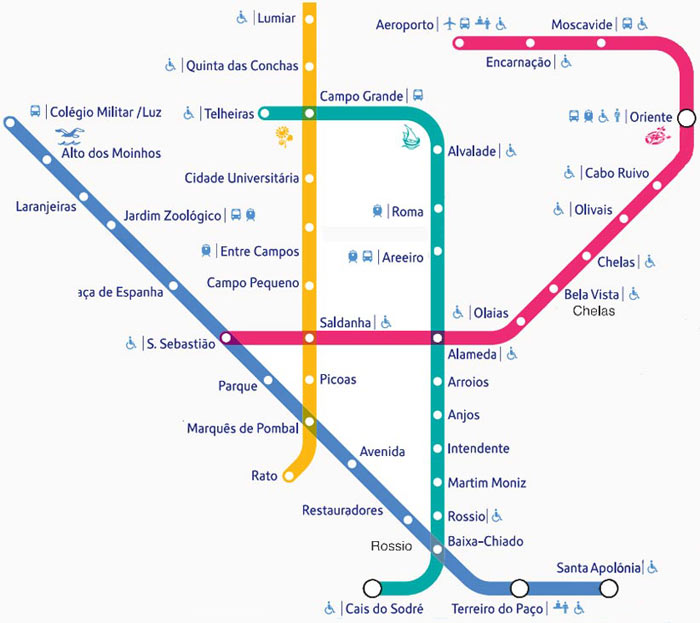 Using Lisbon public transportations is a quick and economical way to get around. If you choose this mode of transport, you can buy and recharge your card in one of the metro stations. To top-up from 5€ up to 40€. Otherwise, you can even buy an unlimited pass for 6.40€ per 24 hours.
Neighborhood map of Lisbon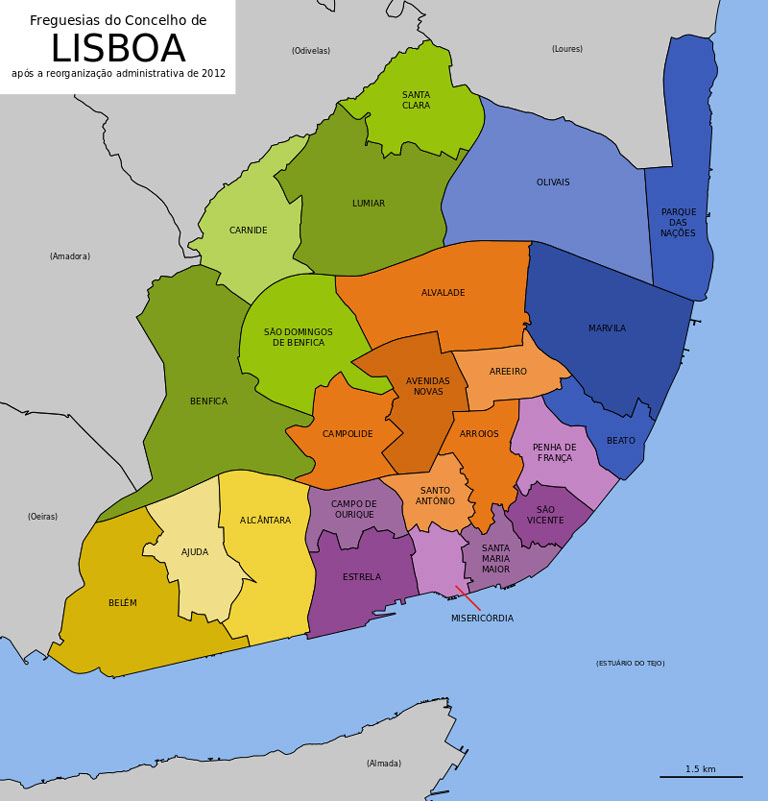 Like knowing the best addresses in Lisbon, it is important to know in which neighborhood you are to know what there is to do. The districts of Lisbon are called "freguesia" which could be translated by communities. There are 24 for the Portuguese capital. The city center corresponds to the purple zone: Miséricordia, Estrela, Santa Maria Maior and Sao Vicente. 
Around Lisbon (Cascais, Sintra & Setubal)
Due to its geographical location, the Lisbon region is one of the most beautiful places in Europe. The hundreds of kilometers of coastline and the surrounding mountainous regions make it the perfect place. The greater Lisbon region stretches north to Sintra, west to Cascais and south to Setubal. If you are in Lisbon for a while we advise you to get to these places. As a reminder, Sintra has the most castles and palaces in Portugal (Palacio de Pena), Cascais is a seaside resort, with traditional Portuguese architecture and Setubal has a magnificent reserve, the Serra da Arrabida, where it is possible to observe dolphins and sharks.
Cascais and Sintra are easily accessible by train, which is not the case for Setubal and its reserve where you will need a car at all costs. 
Here are the distances and routes for each of these places from Lisbon.




 

Place

Distance

Time

Sintra

30km

40min or 1h by train

Cascais

35km

40min or 1h by train

Setubal

50km

50min