During your holidays in Portugal, Lisbon is an almost compulsory stopover. Therefore it is a matter of knowing how to make the most of your time in the Portuguese capital. Lisbon offers a lot of outdoor activities and it is quite difficult to choose what to do or where to go. Indeed, when you arrive in a new city that you do not know it is quite difficult to find your way around. Where to eat, where to shop, what to visit during a day trip, all these things get complicated.
This is why the RideLisbon team, mainly made up of foreigners who have been in the same situation as you, decided to set up a bike tour which will serve as a perfect introduction when you arrive here. We are convinced that cycling in Lisbon is the most practical, simple and efficient way to discover the city at a pleasant pace. Discovering a city by tourist bus for example indeed has no charm since one passes in front of monuments without really paying attention to it, also because of the speed of the bus. While cycling, you take your time, you can explore the neighborhoods, enjoy every moment as if you were walking but even better because you can go to cover longer distances. You can make actually the most of your day trip.
Why choose RideLisbon from the other cycle tours?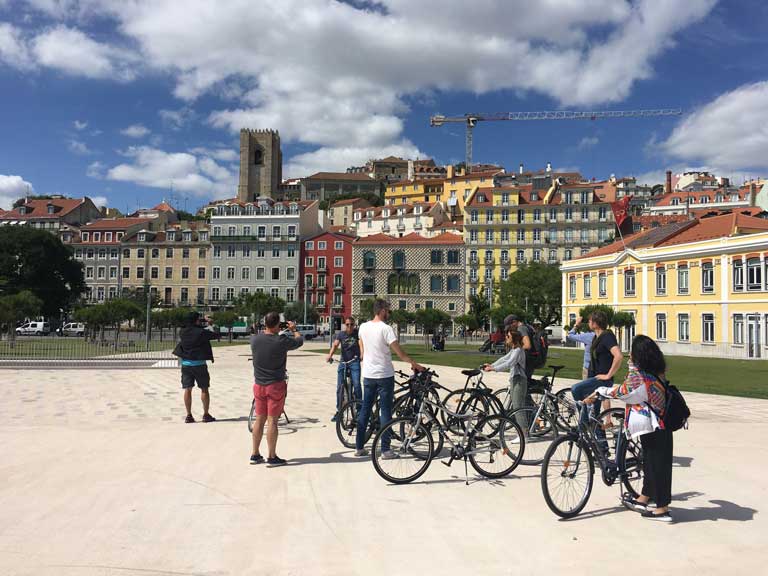 So why is RideLisbon the best bike tour in Lisbon? We try to offer the best to our customers by offering you a city tour that covers the main tourist sites in town for a morning or an afternoon. With us, you'll be exploring Lisbon from East to West aboard our bikes and this during 3:30h, our guides will make sure to immerse yourself in the Portuguese culture, they will make you discover the emblematic districts of the city, those who made it history but also those to discover during your stay. What could be better than a bike tour to learn more about a country, its language, its culture, and its customs? A bike tour will also allow you to get to several tourist places easily instead of having to run from bus to bus to get to every point of the city, the cycling experience is quite adapted to the city. It is a perfect introduction, enough to feel the atmosphere that reigns in the Portuguese capital.
Who can join the bike ride?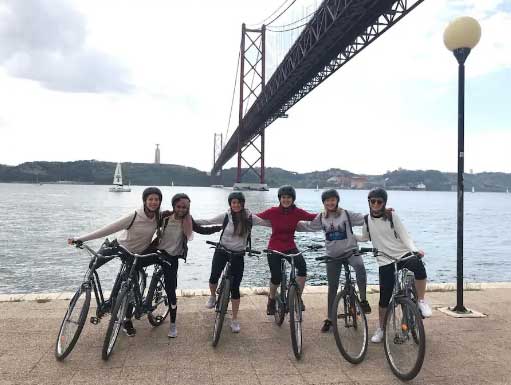 This bike tour is intended for everyone, whether you are a beginner or experienced, small or large, young or old, alone or accompanied, everyone is accepted. We cycle around 19 km for 3 hours 30 minutes, a normal pace neither too long nor too fast just perfect for enjoying the scenery. Because yes the view where we pedal is idyllic. The route is simple, flat (no hills) and set back from the cars because we mostly stay on a bike path. this cycle path which starts in the city center and ends at Belém is part of the cycle path network opened recently in Lisbon. 
We have designed an ideal tour when you arrive in Lisbon because, thanks to the precious advice of our guides, you will then know where to go, what to do, where to eat, etc. We recommend that you book the tour at the beginning of your holidays, when you arrive in Lisbon to make the most of the advice of our guides, so you will know what to do and how to organize your day trip to Lisbon. Of course, if you book it later it doesn't matter either. As we say better late than never.
Interested in one of the best cycle tours?